In the below table (part of a greater sheet) I have a table of ECB monthly EUR/GBP closing rates. The two blanks are in respect of two additional occasions in a 28 day cycle and contain no data and are thus disregarded. The array in the example comprises cells in the range X4:X17.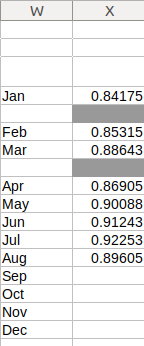 What I am seeking to do in another cell, is enter the most recent rate (in the example given 0.89605).
Currently, I just re-enter the data (overwriting what is already there in the reference cell) but I am certain there is a simple formula to achieve this objective.
I have tried VLOOKUP(), COUNTIFS(), INDEX() in various forms but with no success.
I'm certain there is a simple solution to this but just now, it evades me.
Can anyone propose a suitable, simple solution to return the value in the last occupied cell in a column of 14 data elements?