How to fill in blank cells in column by copying filled cell above [closed]
I need to copy a cell value down a column until there is a non-empty cell. When such a cell is encountered, its value needs to be copied down until another non-empty cell is found. In column A of the following example, the space under 'tao' should be filled with copies of 'tao', the space under solitarius should be filled with 'solitarius', etc.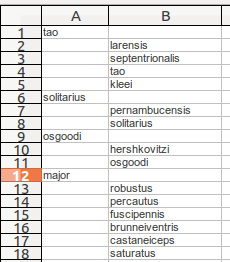 I know this is fairly trivial to do by hand, but with 34000 entries I'm looking for an easier way.
Closed for the following reason the question is answered, right answer was accepted by Alex Kemp
close date 2015-10-21 00:04:05.748572
Comments