Thank You. Works fine. Done previously but forgotten. Result: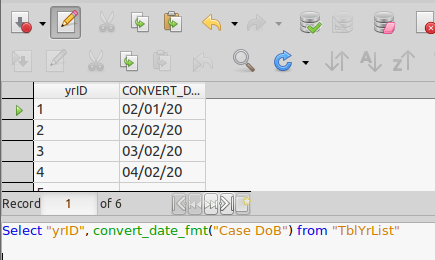 create function convert_date_fmt (d date) returns
varchar(10) -- unnamed return value
 as
 declare DSTRING varchar(10);
 begin
DSTRING = lpad(extract(day from d), 2, '0') ||'/'||
   lpad(extract(month from d), 2, '0')||'/'||
   lpad(extract(year from d), 2, '0');
 return DSTRING;
end

Example deleting function:
	drop function convert_date_fmt

Example of use:
	select convert_date_format("Case DoB") From "TblYrList"

Create & Drop statements should be run from main form menu Tools->SQL.
Just execute Create once. No need to use Drop unless Create is to be redone. Can also Alter function vs Drop/Create.