In a previous installation of LibreOffice 6.0, I was able to apply application colors (via Tools>Options>Application Colors) that I don't see now. For example, I used a color called Pink 8. There were other pastel colors as well, with similar names. In the drop-down menu, I don't see a palette with the colors I am looking for.
The Standard palette in LO 5.4 (which contains Pink 8) has different colors than the Standard palette for 6.0. Here is what the LO 5.4.5.1 palette looks like, at least for me: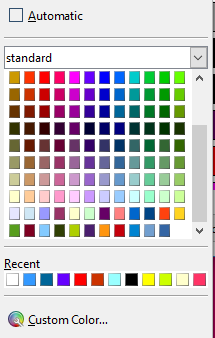 As you can see, it has a scrollbar on the right, which the 6.0.1 version does not.
Has the color selection changed or can I do something to have access to those colors again?