Years ago I used to use Lotus123. When I wanted to print a small group of cells, a chart, or a table upon selecting print it would open up a small print window such as this: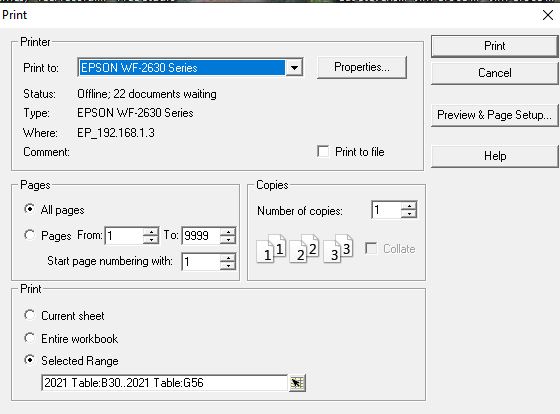 That window contains two buttons of interest 1) "Preview & Page Setup" & 2) "Selected Range" with an editable box to enter the specific range. In 123 it fills that box in automatically if you have selected cells prior to hitting print.
When you select "Preview & Page Setup" it opens up a split screen with half being the editable document and the other half being the print preview. It was handy because one could make changes in the editable document and have it show up instantly in the preview page. You also had the option of closing either half of the screen if so desired. The preview screen also had tray with an extensive array of icons for modifying the preview document such as portrait/landscape and many many other options. Each icon had a "bubble" help popup when hovering over it with the mouse, a great help.
In any event I left 123 because it is no longer supported and does not work well in Windows 10. On the whole I like LibreOffice but I am far from mastering it, especially the print functions. They do not seem to be user friendly.