The following is the top left corner of a 8.5x11 in (= 51x66 pc) page with 0.5 in (= 3 pc) margins, created in InDesign. The font is Liberation Serif 12 pt (= 1 pc); the line spacing (aka tracking) is 18 pt (= 1.5 pc):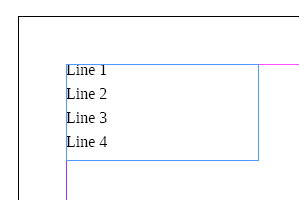 The same with horizontal guidelines, there are 18 pt between them: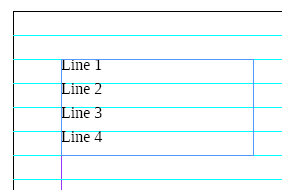 The same in Writer. The measurement units are set to picas; the line spacing is 1.5 pc "at least":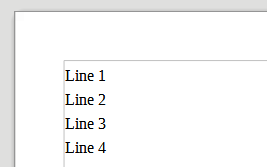 Line spacing is 1.5 pc "fixed":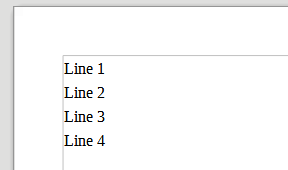 Now let's compare them: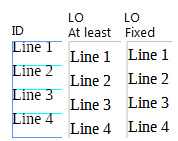 ID stands for InDesign, LO stands for LibreOffice Writer.
As you can see, the lines on all three examples doesn't match each other!
It seems that while Writer aligns text lines to the bottom of their line spacing, InDesign aligns them to the top. To test this assumption, I open InDesign and change the baseline shift of the default paragraph style to -6 pt (minus 6 pt). This is because our line spacing is 18 pt and the font size is 12 pt, and 18 - 12 = 6.
Yes, my assumption was correct. You can see that now the lines in InDesign are aligned the same as the ones with fixed line-spacing in Writer: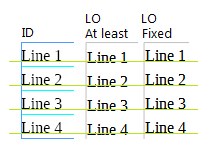 Zoom 200%: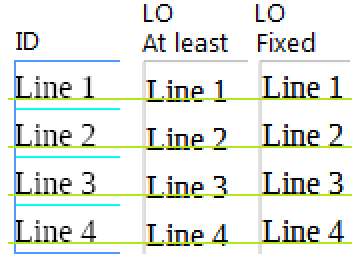 My questions:
Why does Writer line spacing with "at least" and "fixed" line spacing doesn't look the same? Yes, I do realize that they can look differently at specific circumstances (for example, if you have 20 pt inline image). But why they are different in this particular example? It seems they should be exactly the same.

Is it possible to tell Writer to place its lines to the top of their line spacing, so that it won't be necessary to shift the baseline in InDesign to have the lines in InDesign and Writer look the same?