Hi, first post here. I am new to formulas in calc.
I have a spreadsheet in which I am trying to get the date when I write an "x" amount of days. I used =DATEDIF, but it wasn't what I needed.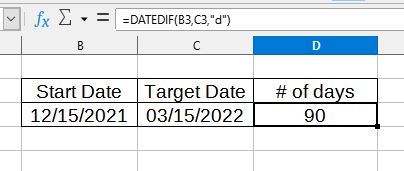 For Example:
12/15/2021(start date) + "x" days = ? (target date)
Is there a way to do this? I have to find a lot of target dates and I need to automate it. I'm reading a lot to keep learning, but I have not found an answer that could help me.
Thank you!