I am writing a fiction novel and want to copy something I've seen in some other books where each page (except chapter title pages) has the left side pages with the number, then the title of the book and the right side pages have the title of the chapter and then the number. I know how to set it up for the first chapter, but there doesn't seem to be a way to have the headers change with each chapter title.
Here's an image of what I'm talking about, for clarity's sake. I cobbled it together, so hopefully you can understand the context here.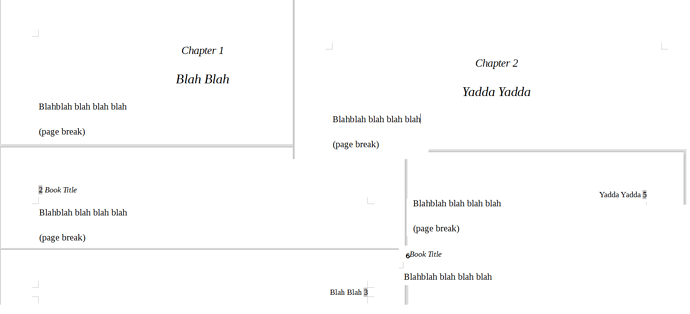 IF I can't use headers to do this, I'm not very good at figuring stuff out when it isn't obvious. Could someone give me a walkthrough? As in "click on whatever, then select selection, click OK, step 2, click on that, select something, click apply" You know, lead me by the hand, please! Thank you very much!