I use paragraph styles and somehow some of my paragraphs use a style ended up with extra spacing below the paragraph (0.20 inches; should be 0 inches). I must have gotten some direct formatting in the paragraphs by mistake. The spacing above the paragraph is correct (0.10 inches) per the style setting. I am trying to use Find and Replace, Formatting option, to find those paragraphs so I can fix them. However, the search always fails with "Search key not found". See the attached screenshot for details: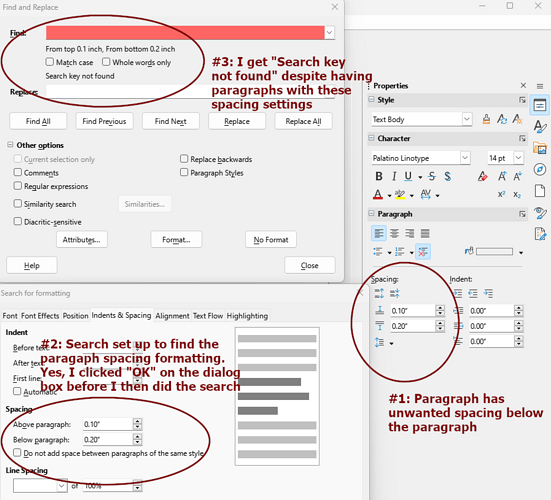 #1 is Properties in the Navigator sidebar showing that I do have at least one paragraph with unwanted spacing below the paragraph.
#2 is Find and Replace → Formatting dialog with the spacing set to match the above paragraph and below paragraph settings that I wish to find. (If I do not set above paragraph, it defaults to 0 inches and thus would not match the paragraphs.) I do press the "OK" button to close the dialog.
#3 is Find and Replace with the formatting set to what I need to find. Pressing "Find Next", "Find Previous", or "Find All" always fails.
What am I doing wrong? How do I get Find and Replace to search for this formatting? (I have successfully used Find and Replace in the past for other types of formatting without problem. It is only failing for paragraph spacing.)