I still do a good bit of snail mail correspondence and I like to be able to print the envelopes out from the manual feed (bypass) tray on my Xerox WorkCentre 6515DN laser printer. I have done this successfully from WordPerfect (x8) and earlier versions of LibreOffice.
Today I upgraded to LibreOffice 7.1.3 on one of my Windows 10 computers, then attempted to print out some correspondence. The letter printed properly, but I could not choose an appropriate page size to print out the envelope. In fact, all envelope page sizes had disappeared. Screenshot attached: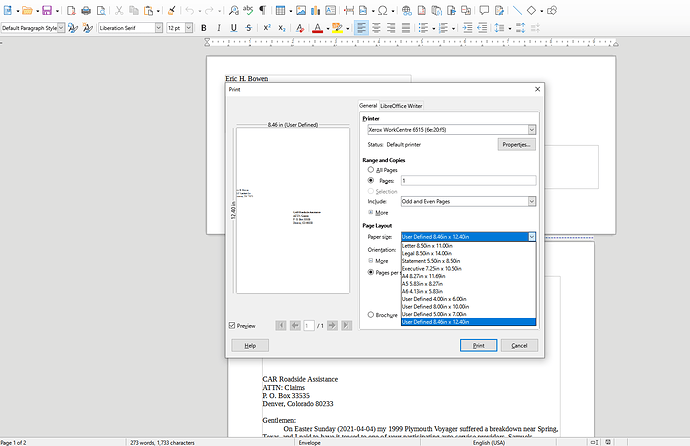 I saved the file to the network and attempted to print out on my Linux desktop. There the envelope sizes appeared, but no combination of trays, page sizes or other options would print out a #10 envelope from the bypass tray. I have a nice stack of about fifteen sheets of scrap paper, all with a perfect image of an envelope address and all 8.5" x 11".
I finally managed to print the envelope using a Windows laptop which has not been upgraded. What fixes can be suggested for this problem in the future?
Version: 7.1.3.2 (x64) / LibreOffice Community
Build ID: 47f78053abe362b9384784d31a6e56f8511eb1c1
CPU threads: 16; OS: Windows 10.0 Build 19042; UI render: Skia/Raster; VCL: win
Locale: en-US (en_US); UI: en-US
Calc: threaded
(Edit: activated screenshot -AK)