I use full font hinting throughout my Linux desktop environment, because I find it easier to read and more comfortable for my eyes. Everything has been working fine until a recent upgrade from LibreOffice 7.2 to LibreOffice 7.4.
The behavior I see now with LibreOffice 7.4 is that fonts are only partially hinted, in LibreOffice Writer only. Other components, such as LibreOffice Calc, don't seem to be affected.
By trying several versions of LibreOffice, I narrowed down the problem to whatever changed between LibreOffice 7.3 and LibreOffice 7.4.
The screenshot below shows the new behavior in LibreOffice 7.4 Writer (top) and the old behavior in LibreOffice 7.3 Writer (bottom). I would like to revert to the old behavior.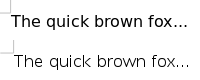 This is the same font (DejaVu Sans, 12pt, zoom 100%) on the exact same Linux system. The only thing that's different is the LibreOffice version.
To give you the full context, I noticed the difference after upgrading from Fedora 35 to Fedora 37, using the LibreOffice version that is bundled with Fedora. Then I uninstalled the LibreOffice packages from Fedora and installed different versions of LibreOffice on Fedora 37 by downloading binary RPM packages from libreoffice.org. I used the install script to install locally for the current user only. I was able to reproduce the behavior I had seen previously with the Fedora packages.