I consider myself a typical LibreOffice user, not an early adopter or beta version enthusiast, even though I work in the tech world.
When I open LibreOffice and get the update/download prompt, it takes me to the Download page, which says at the top right under 'Download LibreOffice': "Ideal for home users, students, and non-profits".
However, the first download option here right below that is the "technology enthusiast, early adopter, or power user" version… which is not what the average user should be using, right? For the normal user, especially in a professional environment, they should be using the "tested for longer" older stable version, right? It's very easy for the average user to download the version meant for "technology enthusiast, early adopter, or power user" without realizing it's not the longer-tested stable version.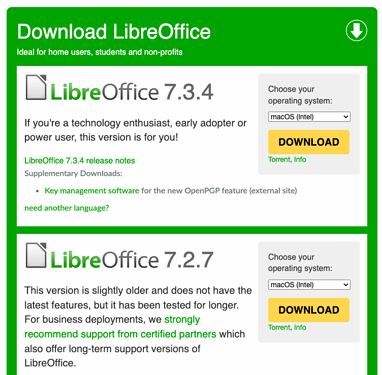 . . . I'm pasting the URL here: . . .

Download LibreOffice | LibreOffice - Free Office Suite - Based on OpenOffice - Compatible with Microsoft

. . . The URL is pasted above. You may only see the unfurled summation. Hover over it to see the URL I pasted. . . .
Maybe I'm completely out of my mind thinking that the stable version should show right below the blurb saying it's ideal for the average user, and that the "tech enthusiast" version should be below that, but I don't know; maybe the LibreOffice devs want the average person to be guinea pigs for beta versions. Am I just insanely crazy or what?!
Note that I chose the closest category/tag available that I could find.