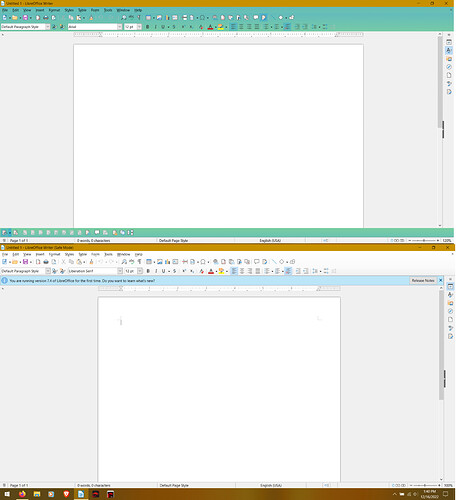 I recently downloaded a file converted from a PDF, converted from a published e-book. It completely screwed up my page styles, and I cannot for the life of me figure out how to reset them all. The first image shows it as it is now, the second image shows it (booted in safe mode) how it should be. How do I reset it to the proper page style?
I have already gone through the various settings under Format, View, Styles, etc, and pressed reset on all of them. That did not fix the issue. Also completely uninstalled and reinstalled LibreOffice. Also did not work.
Edits for clarity: I received a PDF recently, which I attempted to convert to .docx. It… theoretically worked, but formatted very strangely, with invisible shapes (which I just deleted) and cramped pages off-centered. (For the privacy of my client, I cannot show the file, even in part.) I'm not sure what my previous version was; after having uninstalled and reinstalled it:
Version: 7.4.3.2 (x64) / LibreOffice Community
Build ID: 1048a8393ae2eeec98dff31b5c133c5f1d08b890
CPU threads: 12; OS: Windows 10.0 Build 19044; UI render: Skia/Raster; VCL: win
Locale: en-US (en_US); UI: en-US
Calc: threaded
Further edit: I seem to have erased all my custom settings attempting to open in Safe Mode. So my page style is back to normal.