Hi,
I'm sorry if this belongs in the "bug" area instead of the general question area. This just started happening today - everything was working fine yesterday. I attempt to open a PDF in draw and the text appears super garbled, not just disorganized, but instead of the word "potato" the text reads "8%Jf1P&" or something like that. This only appears to happen in certain fonts.
The font in question is "cafeteria" (example here). When I first installed libreoffice, I did not have cafeteria installed on my computer. When I attempted to open a PDF containing that font, libreoffice chose a replacement font. Then, I installed cafeteria, and the files opened just fine, with the text appearing as it should. But now, a day later, even with cafeteria installed, I'm getting this garbled text. I've tried uninstalling the font, reinstalling the font, and reinstalling libreoffice. No dice.
Any time the font appears messed up, it's supposed to be the cafeteria typeface. Please let me know if there's anything I can do, or if this should be moved to the "bugs" section.
I've edited this post to include a screenshot. To clarify, the PDF on the right is the one I opened in draw. The image on the left is the way it appeared during editing, and also how it appeared when I saved it as a new PDF.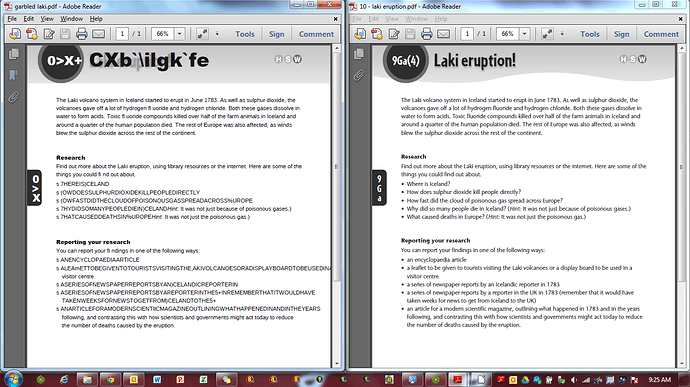 I believe the type of font is OTF - at least that's how it appears when I examine the font properties in my fonts system folder.
Thanks!
(Edit: activated image -AK)