Linux Mint 20 Cinnamon
LibO Version: 6.4.6.2 default version
The same error occurs in LibO 7.0.4.2
.
I am using plenty of headings in a Writer file and just needed to go for the first time to Heading 5 and found that shortcut ctrl+5 does not work, all others from 0-9 work fine. This in the aforementioned file, as well as in a new file created.
Going into Sidebar > Styles and double clicking Heading 5 works correct as well.
I checked Tools > Customize > Keyboard
ctrl+x (x=0-9) are shown as correct.
I wanted to re-do the setting for the shortcut key and entered in "Function" the search term "heading" while having in Category "All Commands" selected. Nothing showed up in the field Function.
Without a search term I scrolled through all entries in Function but "Heading…" did not show up.
I also checked Tools > Chapter Numbering. Also here everything looks correct.
Question: How can I get the shortcut key for ctrl+5 working again for Heading 5?
Thanks in advance for helping comments.
The following screenshot shows the selection of ctrl+5 for the style "heading 5". It was added after the kind answer of @ajlittoz and refers to my comment. Screenshot is valid for v7.0.4.2 and v 6.4.6.2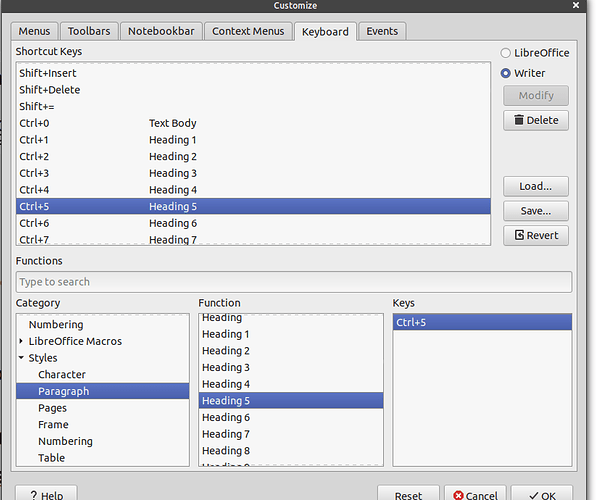 (modified by ajlittoz to show the screenshot in the question)