I would like to use red text, How can I change the color from black to red?
Retagged - please don't confuse people by adding tags that aren't related to your question.
In Calc select the cell with the text you wish to change colour.
Then on the toolbar, highlight the text after which then select the Font Color icon and select the colour required as appropriate.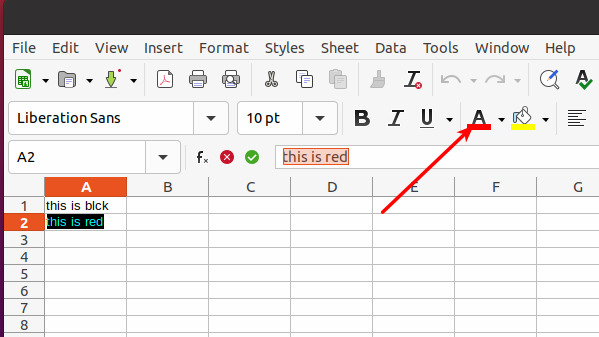 Having selected the colour, any other text you wish to include in that colour, just first click on the Font Coloricon.
Thank you for replying to my question however I use LibreOffice Writer
KCav
I'm almost sure if you search hard in 'writer' for a similar coloricon you will find one!
Finally - I clicked on View /Toolbars /Formatting and the option to select font color that you showed me appeared on my menu
Thank you for helping me.
KCav
If you select text and you are using the standard user interface, the toolbar should be visible anyway. Maybe you have set the ribbon interface which always has most functions hidden at any one time. For maximum efficiency you might like to try other interfaces
Incidentally, the sidebar also gives the opportunity to direct format text. When you are familiar with LibreOffice you might like to consider the benefits of using Styles.
You might like to download the Writer Guide from English documentation | LibreOffice Documentation - Your documentation for LibreOffice
The Getting Started Guide downloadable on the same page might be useful too.