In Chart, when the whole chart is selected, the Position and Size dialog has a Slant and Corner Radius page. There is little documentation about this page. I have two main questions:
Everything but the Slant option is grayed out. When are the other options active?
I can see how the slant option works, but it is not clear how the others work. If they can be activated, how are they used? I would imagine that the idea of a control point is to set the center of the circle for the radius, but then why are there two control points?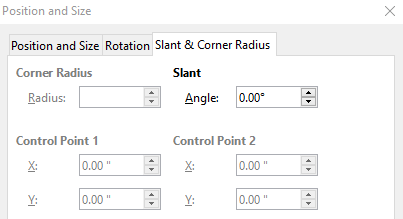 I would appreciate any insights.