I have downloaded the help file with torrent but I don't know how to open the file to install it
Which file did you download (please specify exact name)? Edit your question and do not post an answer to provide this information.
Same here, I don't know if you have solved your problem. Maybe you can share with me.
Again: Which file did you download exactly. Do you know what a .torrent file is about? Here are no fortune tellers watching a crystal ball.
If only you would tell us your operating system, LibreOffice version and language users would be able to direct you to the correct download without using BitTorrent. But Same here must be read correctly Same missing information here.
Same problem:
Clicked link to install the help file and ended up with a 2KB torrent file.
Help for offline use: English (US) (Torrent, Info)
LibreOffice_7.0.3_Win_x64_helppack_en-US.msi.torrent
Version: LibreOffice 7.0
Language: English
Torrent installation of 7.0.3 ran smooth as silk.
Attempt to install help fails.
When I clicked on English (US), it showed an .msi link at the bottom of the browswer,
but nothing appeared to happen. However, I saw was a new file
unconfirmed 669920.crdownload
When I clicked on the link at the bottom of the browsers page, a Microsoft window popped up,
complain I was attempting to download something that wasn't from their App store. This window
was probably hidden by the browser. After granting permission, the normal installation started.
Better to ask your own question, especially as it is a different problem.
This is a Windows issue, so in Windows click Start Menu > ⚙ Settings > Apps > Apps & Features, under the title Choose where to get Apps select Anywhere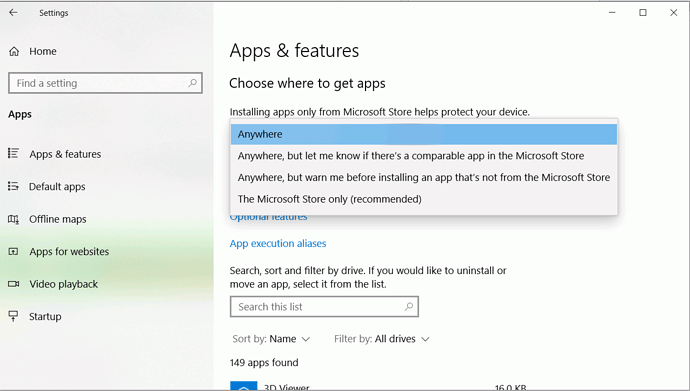 @Sakshale: this is not a solution to the initial problem. You're confusing users who now think the question has received a solution. It would be much better to ask your own question and add a reference to this one (showing you searched the site).