Hey there! I am using windows 7 Ultimate and was trying to install liberoffice 6.0.4 version and am facing this notification each time i run it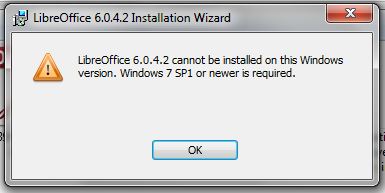 if the above pic does not load it says - liberoffice6.0.4.2 cannot be installed on this windows version. windows7SP1 or newer is required.
Am i downloading the wrong version? If so which one should i download (it would be appreciated if u could attach a link)
OR
see the whole reason I am downloadingLO is because i have to give a ppt tom and my school uses LO3 version. So can u plz tell me if a powerpoint ppt(transitions, fonts and all) works in that version of LO.
Please reply as soon as possible, Thanks!
(edit: jpeg made visible)