In recent versions of LibreOffice Writer (since at least 6.0, if not 5-point-something) find/replace using formats is unusable, because unmodifiable extraneous formatting details are included in the find formatting which preclude a positive match.
For example, I want to search for instances of the font 'Adobe Garamond Pro Italic' (of which there are many instances in a document I have, although this font is not installed on my system), and replace with 'Adobe Garamond Pro' (which is installed on my system) and the 'Italic' style. However, when I attempt to create this formatting I get the below: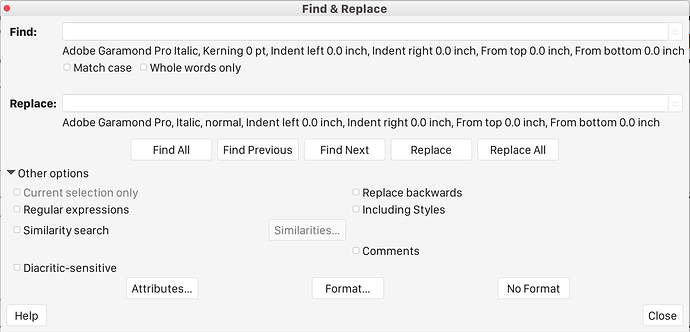 You can see that instead of searching only for text formatted as 'Adobe Garamond Pro Italic', I am—without any input of my own telling LibreOffice to do so—searching for 'Adobe Garamond Pro Italic, Kerning 0 pt, Indent left 0.0 inch, Indent right 0.0 inch, From top 0.0 inch, From bottom 0.0 inch'. It is seemingly not possible to edit these extraneous formatting directives. For example, while I can go to the Indents & Spacing tab in the Search for formatting dialog, and set, say, a value of 1.0 inch for Indent left (which is just as useless a search value as 0.0, since my indentation varies throughout my document), I cannot change Indent left to a blank value without it immediately reverting to '0.0 inch' when I tab to the next field or click OK.
I am using LibreOffice version 6.2.6.2 on Ubuntu 19.4.