I am using LibreOffice 6.1.5.2 on Mint 19.1 Cinnamon using kernel 4.15.0-47-generic to create a small HSQLDB database for my personal use. Recently I started encountering a problem in Base that is rendering it useless to me. When I attempt to create a relationship between two tables LO crashes giving me the following error message: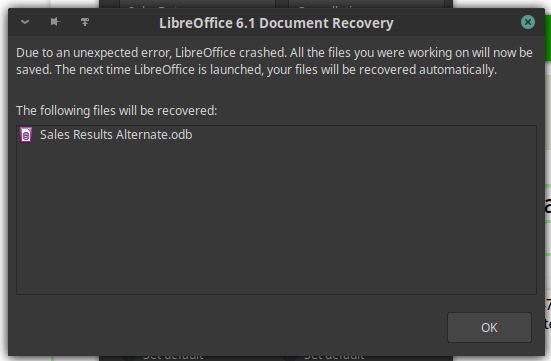 The relationship tool works fine otherwise. It is only when I attempt to use the drop down to choose the first table with which the relationship is to be created.
I attempted deleting and recreating the tables thinking it maybe just those first few tables I was working. Then I scrubbed that entire database and started another one. Lastly, I removed and reinstalled LO. The problem still exists.
The last point, interestingly enough, the crash isn't reported in Mint's System's Report tool. So ???
Please help!
Scott
As requested, here is the scrubbed database file. Of course, the database is still in development so no data has been unput. Thanks again in advance for you help.
Scott