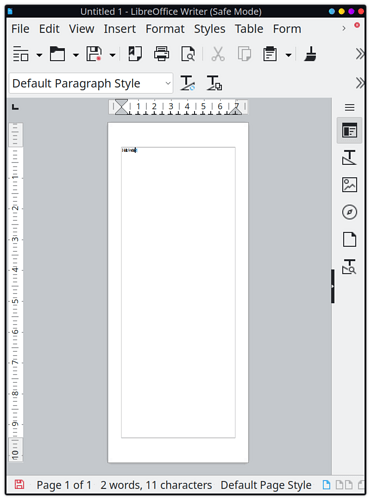 At first, I thought this was a font kerning issue, but after looking at the ruler, I think there's something fundamentally weird with the way the page is being rendered. This is supposed to be US letter paper, and the ruler dimensions are correct, but as you can see the aspect ratio is horribly "off". The screenshot is from safe mode, I've reset the settings to factory to try to fix this, and I'm still not sure what's going on.
Any assistance is appreciated, as at this point writer is not really usable.
There are similar (though not exactly the same) issues with calc: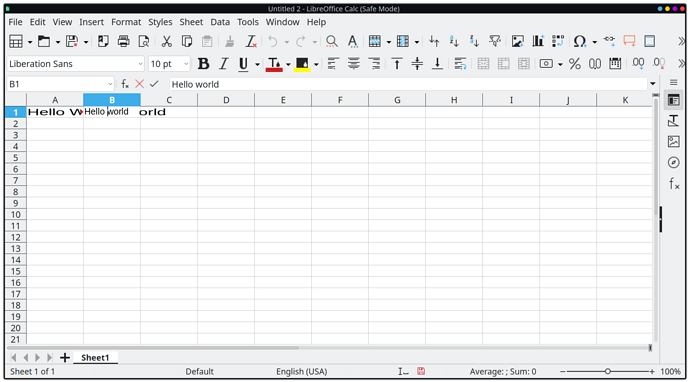 I'm on Ubuntu 22.04 and really haven't (afaik) tinkered much with font settings, graphics settings, etc. Every other application seems to work fine. I do most of my document creation via LaTeX or pandoc, but every once in a while I need to use a graphical interface.
Version: 7.3.7.2 / LibreOffice Community
Build ID: 30(Build:2)
CPU threads: 16; OS: Linux 5.15; UI render: default; VCL: kf5 (cairo+xcb)
Locale: en-US (en_US.UTF-8); UI: en-US
Ubuntu package version: 1:7.3.7-0ubuntu0.22.04.1
Calc: threaded