Hello. I have setup a multilevel list but cannot achieve the desired results after setting up the alignment and position parameters.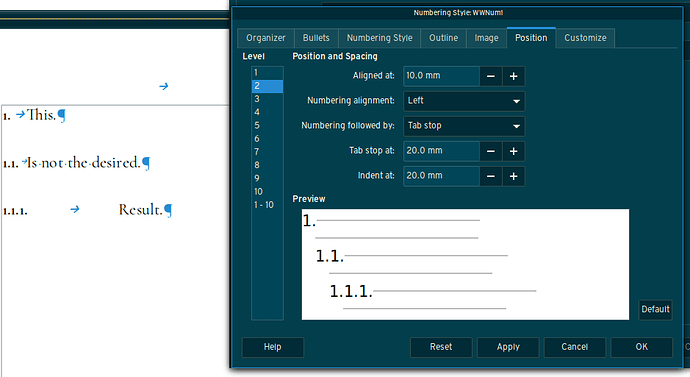 I would expect to hit the tab key on the second level and the number to move to its alignment setting, but it remains aligned at 0. The third level has the number aligned at 0 and the text aligned with the tab stop of its level.
[Edit 1] Thanks @ajlittoz - Indeed, it was an M$ template and I'm trying to get them to work in LO so we can switch apps. I started the list from a custom List Paragraph and although the Numbering style is set to WWNum1 (which has been modified to point to the correct styles within LO), it does behave differently. But you pointed me in the right direction: selecting the list text and reapplying the List Style does render positive results with the correct alignments and indentations. Thanks.
[Edit 2] Yes. This is more of an exercise to sink into the actual workflow of Writer and generate native files that are correctly stylized. Unfortunately, years of M$ are hard to shake off. Thanks for the cautionary words.