How would I get the checkboxes in column C to add the value from Column B in the same row they're in to add that value to the total in C7?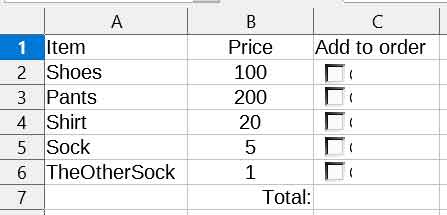 For example if the user checks the checkboxes in C3 and C5 the total displays 205 in C7.
If they want Shoes, the sock, and TheOtherSock it displays 106.
If they then decide they only want TheOtherSock (laundry gremlin, they only need one) and uncheck the box in C6 the total in C7 changes to 101.