Bonjour,
Je voudrais mettre un chapeau arrondi sur un arc géométrique: comment faire ?
bonjour, une astuce, mais pas une solution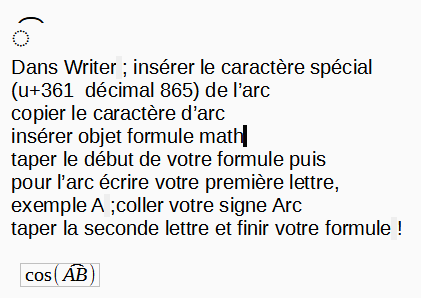 Suite au commentaire de @pierrelouis1 :
Dans un objet formule :
tapez le premier caractère
type 361
sélectionnez 361
appuyez sur Alt+X (pour convertir 361 en arc)
appuyez une fois sur la flèche droite
tapez le deuxième caractère
en:
In a Formula Object:
type first character
type 361
select 361
press Alt+X (to convert 361 in an arch)
press Arrow Right once
type second character
UNICODE U+0361: combining double inverted breve (https://www.unicode.org/charts/PDF/U0300.pdf, to see more: Character Name Index).
I have tested yesterday with U+2322 ( ⌢ ), with U+2312 ( ⌒ ), and with U+FE20 and U+FE21 ( ︠ ︡ ) to no avail.