This is a re-write of my problem trying to create a new printer based envelope template that should be picked up by LibreOffice (see below for versions, etc.)
The problem is as follows. I have a new envelope that is currently not a choice in my printer, nor LibreOffice (LO), in my case LO 7.0.3. This should be supported according to the documentation and I have followed the below procedure to try and get it to work. My page style in LO that I am using is provided below, updated for the new envelope size by me.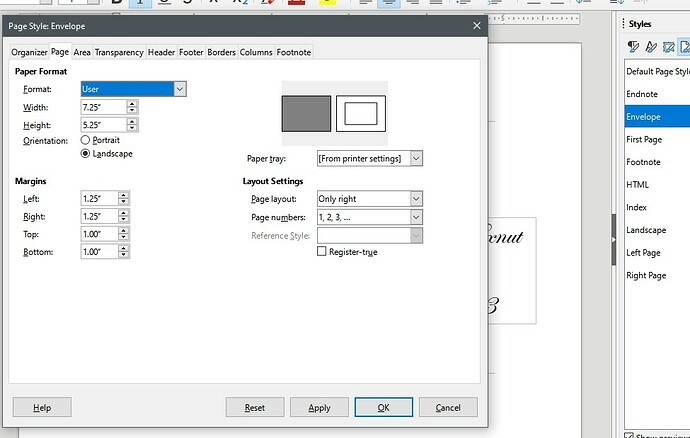 I define a new printer based template based on the instructions provided by my printer manufactorer (Create custom paper sizes Windows| HP Customer Support)


You would think if LO was correctly reading the acceptable printer paper sizes and loading them, then it would be an option when inserting a new envelope, but it's not, it comes up with User Defined. Assuming that this is correct, even though other paper styles appear to me to be slightly spelled differently than the ones I see in the printer driver, I accept this and continue.





In LO, open my document, change current printer settings to pick up the new template paper size using current documentation, File>Printer Settings...|Properties|Paper Quality|Paper Sizes


Try to print the new envelope in LO using the template. Using Ctrl-P or other Print Envelope controls, try to print the envelope, but the template is never recognized, all you get is User-Defined Paper Size, this is a BUG.

I am running:
Win10, v2H20, build 19042.685
LO v7.0.3 (build git log)