I have been trying to use the Crop Mark extension
(see Crop mark » Extensions)
I have been following these (slightly annotated) instructions.
Usage in LibreOffice 4.0 (Actually 7.1.2.2)
Download and open cropmark.odt and set the requested page size (plus bleed area required)
2a. Click on View » Toolbars » Logo to add Logo tools to standard toolbar
2b. Click on the Start icon (circle with a play button icon inside) of the Logo toolbar section
Insert the result (a single shape group) into the master page of your drawing, presentation, or into the header or the footer of your text document.
I go wrong on step 3.
I go to the Side bar Deck » Page » Header of my text document
and click on the tick box and make sure that Same Content is set to All Pages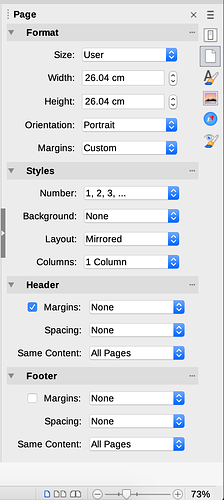 I then select and copy the shape group from cropmark.odt and paste it into my Header area of page 1 of my text document.
The crop marks appear in Page 1.
If I then create a second page by Insert Page Break, there are no crop marks on the second page.
Not sure what I am doing wrong