Hello everyone, I have a form in Libreoffice Base.In the form I have the main table (Diseases) and the tables subordinate to it (Symptoms, treatment and exams). By making a query in the form, I get the result above.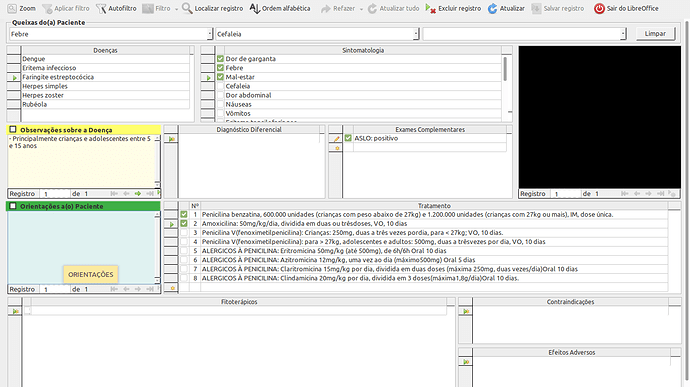 In other words: I came to the conclusion that a patient has the disease "Streptococcal Pharyngitis"; presents the symptoms of sore throat, fever and malaise. The exams analyzed were: ASLO: positive.
Treatment prescribed was benzathine penicillin, 600,000 units (children weighing less than 27 kg) and 1,200,000 units (children weighing 27 kg or more), IM, single dose. As well as Amoxicillin: 50mg/kg/day, divided into two or three doses, orally, 10 days
All this data is filtered when I make a query fetching the true checkboxes
My goal is to print a report (according to the model in the question) with this information to deliver to the patient.
This is the desired report template: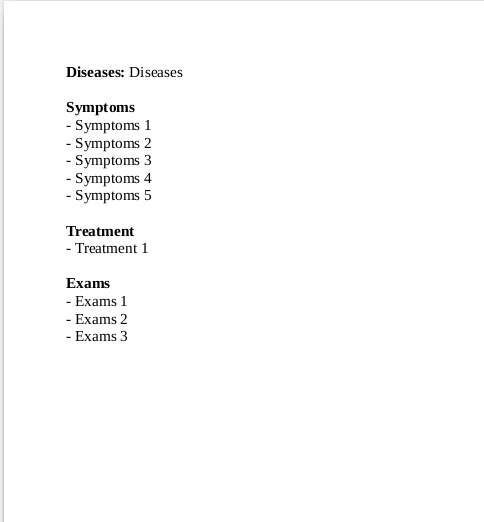 Does anyone have any idea how I can do this?
Thank you very much in advance!