I am on win10/64 and have numerous fonts which have been installed using the windows system font installer, so they are installed in the default font directory. When I try to override any format, even standard, with some fonts they do not appeared to have been loaded into LibreOffice and instead it displays a default Arial or some other garbage font instead. Why? It works in AOO4.1.x, why not LO6.5.x? Since a pic is worth a 1000 words, here is a side-by-side compare, same file, same location.
As you can see in the font window, Sütterlin, size 12 is clearly chosen.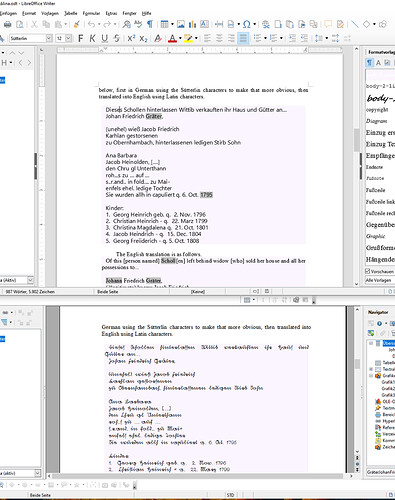 Thoughts? Suggestions? I have already reloaded the font into the system, it clearly is being picked up on AOO and other Apps mind you, is there something special I have to do in LO?
Some additional information, since some have asked. It is a TrueType (version 1) font and if I pulldown in the font menu it does show the correct font face, see below.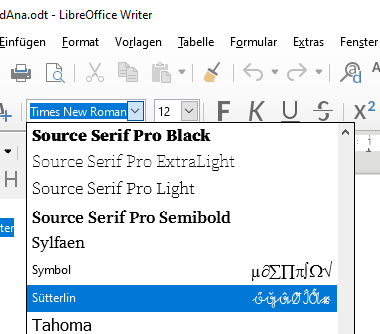 And per the properties of the font…to be unambiguous.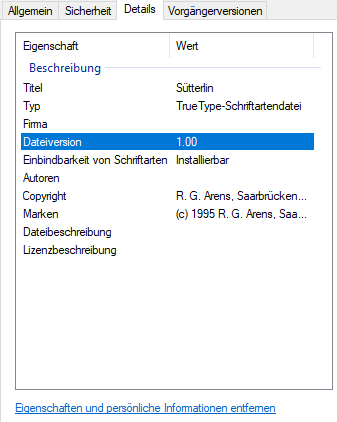 The workaround for now is to bring up my file in Apache OpenOffice, where it renders, and take screenshots. Then after some image modifications pull what I need in as images.
If anyone is interested, the TTF file can be downloaded here to confirm my issue. Suetter.zip