Hi!
I hope you could please help me.
A couple of days a go, I was working just fine in writer, but then the toolbar of mendeley began to look weird and I couldn't add news references. So I closed the toolbar and then I lost it! there is no option of mendeley toolbar anymore.
So I tried to install it again from mendeley but didn't work, I also found the options to install extension from the writer and it was the same.
I asked for help from mendeley support and they told me to try to install version 5 but I can't find it in the official page so I tried with the first version I downloaded and didn't work.
I already tried with versions of libreoffice 6.1.6.3, 6.1.5 and mendeley 1.19.4 and 1.19.5 and nothing. Please help.
I attached the some screenshoots of the error messages I get (Sorry, they are in spanish).
Error message from writer: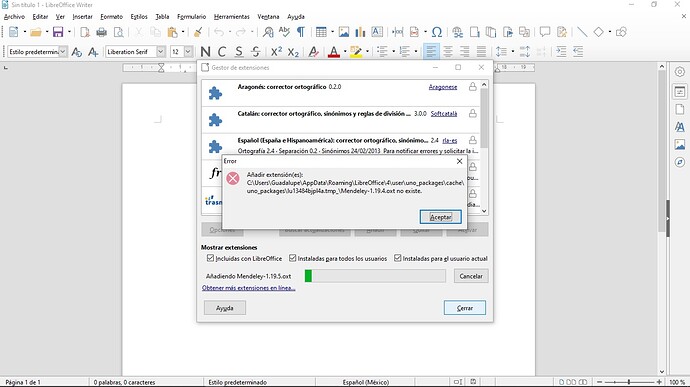 Error from mendeley: