Hello,
I am trying to generate a string of text used for tagging purposes. I have a list of keywords that I will need to select different combinations of and then copy all the keywords to one line. My idea was to create a checkbox to the left of each keyword that would be used to generate a final string of text. However, this could be overly complicating things. I don't really care what method is used (it could be an "X" in a cell), I just need to be able to select a mix of keywords and have a line with all of them generated. This will save me a TON of time for a very tedious task at work.
If anyone has any recommendations please let me know. I greatly apologize, but I know next to nothing about VBA, macros, scripts, and all that. I am willing to look over any documents, videos, or instructions though.
I will attach a screenshot and sample file with an example of what I'm hoping to achieve. The output can be in a cell or text box, or whatever is easy.
Thank you!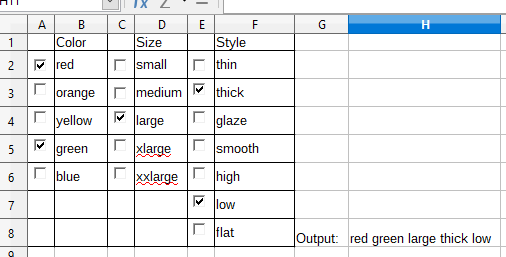 Sample file:
Checkbox Test.ods