Version: 7.2.1.2 (x64) / LibreOffice Community
Build ID: 87b77fad49947c1441b67c559c339af8f3517e22
CPU threads: 4; OS: Windows 10.0 Build 19043; UI render: Skia/Raster; VCL: win
Locale: en-NZ (en_NZ); UI: en-GB
Calc: CL
Thanks to the tip to update my LO to the current release version, I've made progress in building the query I was after. The screenshot shows how far I've got. I have successfully queried my table for the average score of Dramas I have completed, grouped by Network.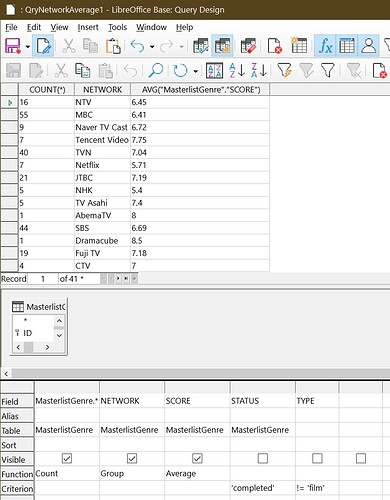 What I would like to do is further limit the query to only include those Networks whose 'completed' count is >=6, to eliminate outliers that might have very high or very low scores from only 1 or 2 Dramas watched.
I think I can build another query from this query, and assume that I need to somehow say something like "WHERE COUNT of 'completed' >=6", but the correct syntax is eluding me. Rather than simply ask someone to write the SQL for me (which would be super convenient for me, of course), I might learn more if told (a) whether or not I'm on the right track and (b) where I can find syntax examples that could show me how to write the query I want. Of course, if I'm fundamentally wrong about how to achieve the desired result, then a correct sample code would be a boon