It appears as though the 7.0.x formatting for global documents has regressed or otherwise is just not behaving for me. If I am using the same template throughout all of my documents, I expect WISIWIG in the subdocuments, is what will appear in the global document. I have no template or formatting overrides in place and yet LO7.0 will insist in putting in blank pages where none should exist and other strange formatting anomalies. I have tried all three sub-versions and they all appear to have the same issue, when will this be stabilized? The issues I am seeing occur most frequently around pictures in frames that are anchored to a paragraph.
Update 1:
I have re-installed 7.0.3 since 6.4 had issues of its own and I would rather stay current. Here is an example of the visual difference (WISIWIG) viewing the global document and the subdocument. One would think, given they are using the same template, that without any overriding formatting they would appear the same, but the word wrap to the next page appears to have some strange algorithm I cannot figure out.

In the screenshot above, the global document is to the left, subdocument right. I have formatting characters turned on and I do not see anything special that would cause the strange sentence bleed to the next page, when there are clearly two lines still available in the global document example (not very economical). Is there a global setting or something I am missing?! Is the strange behavior dictated by the images and how they are anchored?! Again, I have tried everything. I have even cut and pasted the files into a clean template version of the file and re-saved and that makes no difference. I have changed the anchor points from paragraph to character for some images, that seems to be a hit or miss thing, at least why would the behavior differ between the two document types?
Update 2:
I will also add an observation, it seems that when you start a new document it will grab the template that you have designated as the default template, as one would expect. Apparently this is not the case for global documents. Why is there a difference?
Update 3:
I have reproduced the main issue, with the unpredictable formatting, in a smaller odm/odt combination. The files were zipped up after I was able to demonstrate in my environment that the global document had injected an entire blank page for no apparent reason, at least that I can see (format characters set to visible).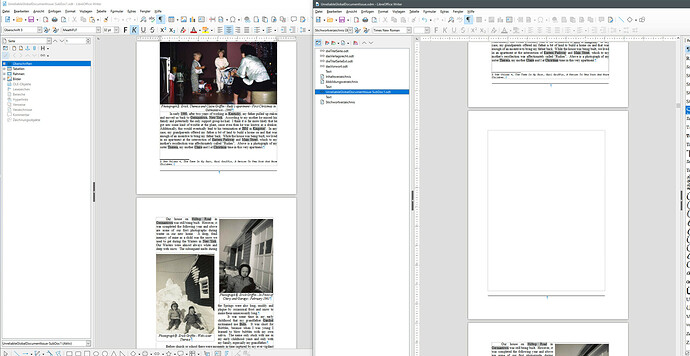 In the above, the global document is on the right, the subdocument on the left. Both, to my knowledge, are using the same template, which is attached in the compressed file added as a comment below. The release of LO and Win10 I am using is below.
Any help appreciated.