Here is an brief excerpt from a column in a Calc spreadsheet. The numbers in the example are meaningless; they serve only to illustrate the problem:
1.7 g per 1/4 cup
25.9 C per 1/4 cup
4 portions per cup

These cells are formatted as follows:
0.0" g per 1/4 cup"
0.0" C per 1/4 cup"
0" portions per cup"

See a screenshot of the CELL FORMATTING and RESULT at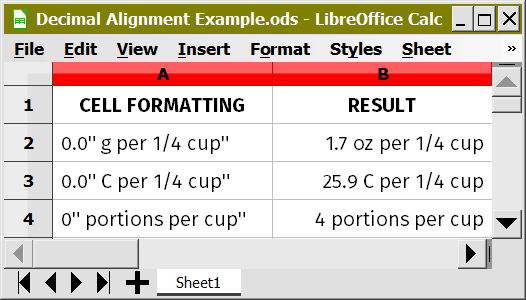 .
How can I format the cells so the decimal points are aligned?
I understand that I can insert spaces of varying widths immediately after the number by using _m, _i, and so forth, but I am looking for something less klugey.
Any suggestions?
(edit: activated screenshot)