I have a column with cells consisting of whole numbers (from 1 to 9999) that should be sorted in ascending order. Occasionally there is a cell containing two numbers joined by a hyphen, where the second of these numbers is higher than the first.
The settings used are:
View > Value Highlighting: ON

Format, Cells > Numbers: Text

Data, Sort > Options:

Include formats: OFF
Enable natural sort: ON
Language: Default - English (UK)
So (1) if I type in the numbers directly into a Calc column and do a sort, the result is as expected: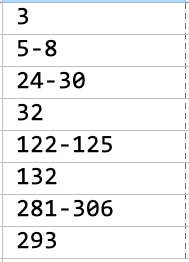 However, (2) if I type in the numbers in a text editor and then paste them into a column, the cells containing the hyphens stay black but those without hyphens turn blue, and the result is not as expected: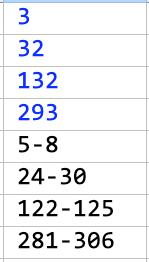 Question: How can I get with (2) results as (1)?