I create a new document and enter some sample text in Text Body. I add a Heading 1 and I add a Heading 2, I then insert a frame and add a Heading 4 and some text. I then do a Manual Page break and add a Landscape page with Header on. Into the header I enter a Heading 5. I create a Table of Contents using the default settings.
I now see in Navigator that the lower level 4 & 5 Headings come before the body of the document and before higher level Headings, although in the TOC they are in correct order.

The incorrect order is reflected in Bookmarks when exported as PDF, and the Headings are promoted to the same apparent level as higher level Headings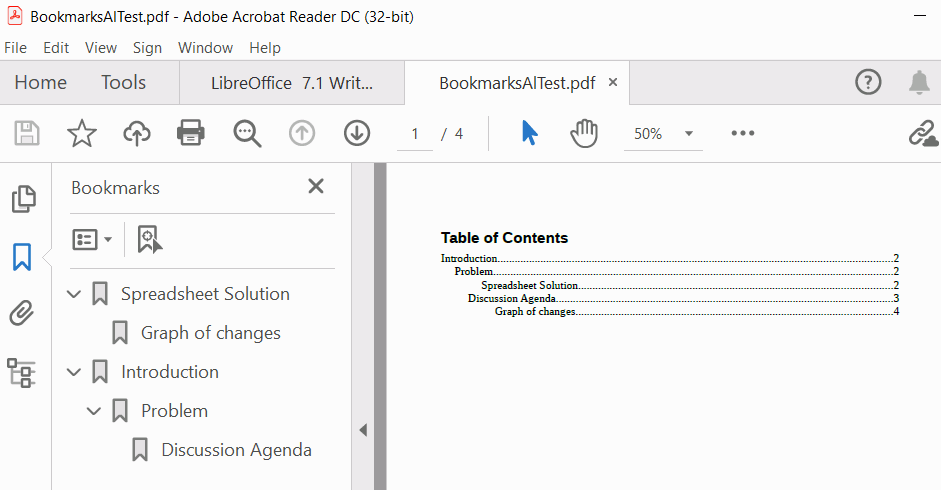 There probably isn't a rational use of a Heading in a header but I included it as it exhibits that behaviour. How can I use Headings in a frame and keep them in page order? Or should I just create another style and add that style to TOC? Cheers, Al
Version: 7.1.5.2 (x64) / LibreOffice Community
Build ID: 85f04e9f809797b8199d13c421bd8a2b025d52b5
CPU threads: 8; OS: Windows 10.0 Build 19042; UI render: Skia/Raster; VCL: win
Locale: en-NZ (en_NZ); UI: en-GB
Calc: CL
2021-07-27 07:54 UTC
I wanted to include a point not directly related to the current text but needing a short explanation of another method not under discussion so I inserted a frame out of the text flow. I wanted the heading of the side text to appear in the table of contents because, being not directly related to the Heading for the main text, it wasn't obvious where to find it again.
In the end I went back and removed the frame and put a paragraph border around the breakout text to try and show it wasn't part of the text flow but it emphasises the text rather having it as a box to one side.
I apologise for the two red herrings: the accidental blank Heading 1, and the Heading in the header which I created while playing with a document to try and find out why the Heading in a frame problem occurs. Cheers, Al