I want to try out JDBC, and use it to connect to my localhost MariaDB* server.
But I can't seem to find LO documentation that clearly explains what I enter for Datasource URL and JDBC driver class, and also what else I need to do to get this working. Here is where I am stuck at the moment: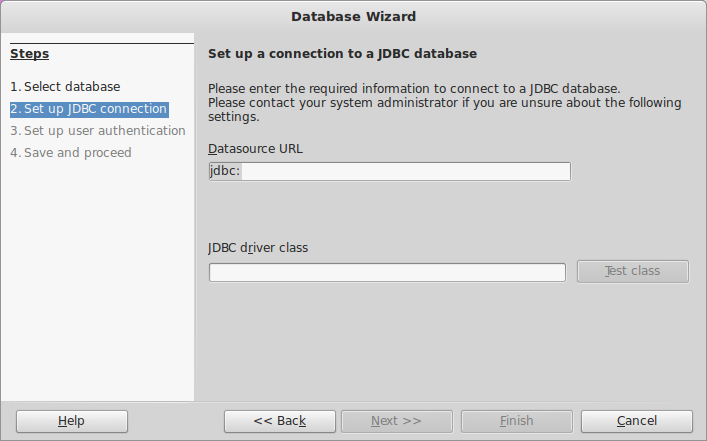 I've looked at the LO JDBC example documentation at this page. I think the Datasource URL should be set to either mysql://localhost:3306/ or mysql://localhost:3306/mysql.
Are Datasource URL and JDBC driver class two alternative ways to set up JDBC? Or do you need each?
If you need each, then what exactly is a JDBC driver class and what do I use for this?
As I searched for an answer to this I found a reference to setting up this screen, which I still don't have a clue about so perhaps you could help explain that to: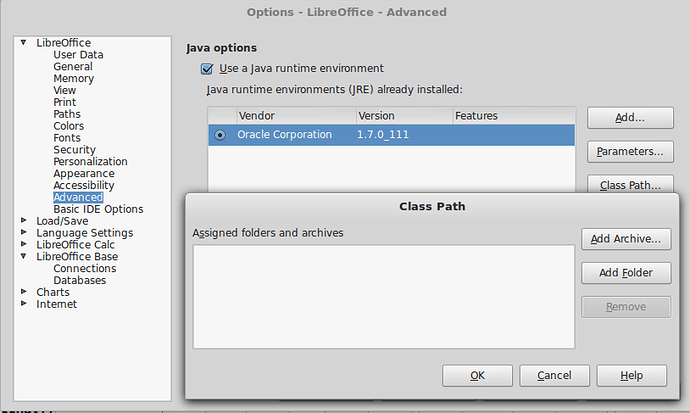 Are Archive or Folder alternatives?
Thanks.
---
I'm using LO 5.2.2.2 on Linux, Debian 8.6 Jessie stable. Also I already have a MySQL native connector working. But because I can't seem to get unixODBC to connect at the moment without crashing Base I was hoping to try the JDBC connector. (BTW, my unixODBC does work and I can test it w/ isql.)
For those unfamiliar with MariaDB, it's a drop in free replacement for MySQL.