ho una tabella che riporta righe di due colori differenti.
vorrei raggruppare la medesima tabella per i colori
file esempio.ods (11.0 KB)
Calc (7.2) ora può filtrare per colore in Filtro automatico. Filtra, copia e incolla.
Puoi filtrare e aggiungere una colonna ausiliaria con un numero (o un testo) univoco per ogni colore. Dopo aver annullato il filtro, i dati possono essere ordinati.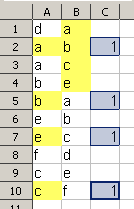 en:
Calc (7.2) now can filter by color in Autofilter. Filter, copy and paste.
You can filter and add an auxiliary column with a number (or text) unique to each color. After canceling the filter, the data can be sort.