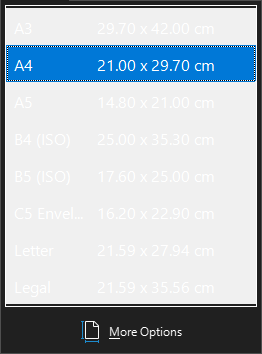 Is this just me or it is happening to everyone?
Steps to Reproduce:
Set your operating system's theming to Dark Mode (in my case, it is Windows 10).
Open LibreOffice and make sure it's either set to either "System" or "Dark" theme.
Go to the Layout tab.
Click the dropdown arrow next to Page Size. The menu that appears is broken.
LibreOffice Details:
Version: 7.5.1.2 (X86_64) / LibreOffice Community
Build ID: fcbaee479e84c6cd81291587d2ee68cba099e129
CPU threads: 2; OS: Windows 10.0 Build 19045; UI render: Skia/Raster; VCL: win
Locale: en-IN (en_IN); UI: en-US
Calc: threaded