When I paste text from other programs into Writer, then writer inserts the wrong characters. It doesn't matter if I copy from a PDF file or some clear text file.
Example:
How do I fix this problem?
Libreoffice:
Version: 6.4.6.2
Build ID: 1:6.4.6-0ubuntu0.20.04.1
CPU threads: 12; OS: Linux 5.4; UI render: default; VCL: kf5;
Locale: da-DK (da_DK.UTF-8); UI-Language: en-US
My System:
OS: Ubuntu 20.04.2 LTS x86_64 (Kubuntu)
Host: 20M9CTO1WW ThinkPad P52
Kernel: 5.4.0-65-generic
Shell: bash 5.0.17
DE: Plasma
WM: KWin
WM Theme: Breeze
Theme: Breeze [Plasma], Breeze [GTK2/3]
Terminal: konsole
(condensed for better readability by @Lupp.)
Edit 1:
In youtube: please choose > 1080p (good quality), to avoid blur. When it is set to sharp settings, you can use Ctrl+scrollwhell to zoom in.
Screenshot from Youtube video: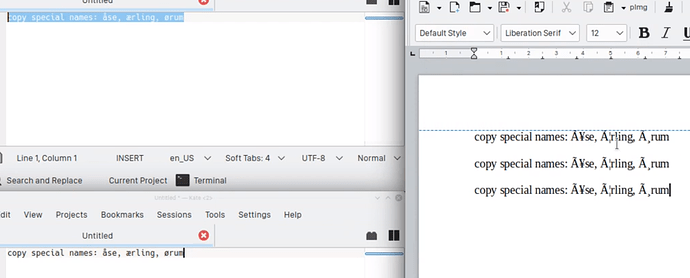 When I try to "Paste Special" I have these options: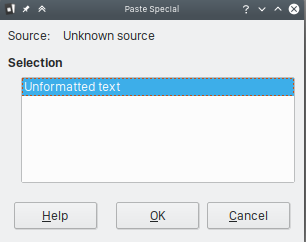 (inline display of screenshots enabled by ajlittoz)